Devotional
Stand Up and Fight!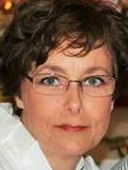 When was the last time you got into a fight? I don't mean a verbal altercation; I mean a down and dirty, roll-in-the-dirt fist fight?
I was eight, and I can't remember the reason, but I remember the boy's name and how it was over before it really got started. I took the initiative and belted my opponent right in the gut. He went down on his fanny with a look on his face that I will never forget. Victory! Sweet victory!
(I know at this point you're looking back at my profile picture thinking that someone posted this to the wrong person's link – but no, they got it right.)
Now I'm not advocating playground brawls. I have a 12 year-old boy and would rather he develop the intelligence to fight with his head than with his fists, and I guess that's the point I want to make. We Christians have to learn to fight, and fight smart, even when the fight turns ugly and requires down and dirty rolling-in-the-dirt gut-punching. Let me explain.
I have a friend who is in the fight of her life. Well, who am I kidding; I have several friends, as I'm sure you do as well, who are in the fights of their lives. What frustrates me is that they don't know it, and I'm convinced that even if they did know it, they wouldn't know what to do about it.
Let's face it - girls aren't supposed to fight. Isn't that what we've been taught? (Alright, so maybe you're of the male persuasion and it's socially acceptable for you to fight as long as the face you put on over the puffed up chest looks sorry enough.) Would it be liberating to know that God gave you permission to fight and not feel bad about it?
Ephesians 6:10 says that we are to "be strong in the Lord and in His mighty power." Ephesians 6:11 says that we are to "take our stand" dressed in God's armor. In those two verses we get our first marching orders as soldiers in God's army.
The first thing to remember is that it is God's army. We are strong in His power, not our own. We'll get to that in a minute. The second thing He tells us is to stand up and fight! Do you know the opposite of a fighter? It's a doormat!
Now let's talk about the enemy, in case you're making a list of car-pool offenders and thinking about that kid who pushed your little one off the swing. Ephesians 6:12 says that our fight isn't with them…sigh. Unfortunately, our fight is with an unseen enemy who is at work to stir up sin within us.
You know that bad feeling you direct toward the mom who continues to talk on her phone in the carpool line, while her preschool child struggles like a packmule under the weight of a nap mat, backpack, and lunch box…well, that feeling you have is wrong. Let's just call it what it is.
So, to recap: we are in a fight, we fight with all the power of the Almighty, and our fight is primarily with our own sin provoked by an enemy we can't see. The only way to win this fight is by putting on our armor and answering the call to battle. We are to stand up and fight.
Still, I'm a very practical person. I need to know what standing up and fighting looks like. Even better, I want to see it demonstrated. I suspect you too would like an explanation of how to fight in God's power, right? Here's where I found the answer and most of the instruction you need to get armored, stand up and fight:
"The Son is the radiance of God's glory and the exact representation of his being, sustaining all things by his powerful word." (Hebrews 1:3)
"The Word became flesh and made his dwelling among us." (John 1:14a)
In order to fight with God's power, you must first have the word of God dwelling within you. This means we have not only God's Spirit, Who is the seal of our salvation, but truly we are also to have His word in a very tangible way.
In John 14:26, we're told that one of the Spirit's purposes in our lives is to remind us of Jesus' instructions to His Church. Though God can do anything, He isn't likely to remind us of His words if we haven't already taken time to consider them. Remember, nothing in, nothing out.
Perhaps you've heard all this before, and if so, I'm probably beginning to sound like Charlie Brown's teacher (i.e., "Bwah bwah, bwah bwah bwah bwah..."), but don't overlook the truth of the familiar. God's word is all-important in our fight, and as Ephesians 6:12 says, we are securely held by our salvation, but our sword is the word of God.
Did you get that? Without our weapon at the ready, the enemy is wailing on our heads! Though our victory is assured in the end (by God's grace), nevertheless we can only stand there and take his blows unless we fight back! Without God's word, we have no defense! (By the way, fighting without God's word in hand was Adam and Eve's battle plan against Satan in the Garden, and we all know how that fight turned out!)
I don't know about you, but the thought of fighting unarmed just makes me mad! I mean punch-him-in-the-gut mad!
By God's grace, we don't have to enter the fight defenseless. Instead, I'm going to take up my sword, which cuts coming and going, penetrating to my very soul and judges my thoughts and attitudes by calling them what they are (Hebrews 4:12).
Secondly, I'm going to take those thoughts and attitudes captive to the mind of Christ (2 Corinthians 10:5). I'm going to look for a way out of temptation, which God promises to offer me (1 Corinthians 10:13), and I'm going to choose it over temptation.
Finally, I'm gonna whack my enemy on the head with my sword, 'cause I'm not the kind of girl you'd call a doormat!
So, as I watch the oblivious soccor mom sitting in the carpool lane and hear the enemy whisper in my ear, "Will you just look at her," I will be ready with my sword to remind myself "greater love has no man than this." And I will beat him back.
When the enemy tells me that revenge is sweet and can be its own form of justice, I will strike a blow by replying, the Lord says that we are to "heap blessings on our enemy, seventy times seven."
When I hear the enemy say that I am too weak for this trial, this illness, this temptation, this disappointment, I will lean on my sword remembering that God chose the weak things of the world to shame the strong, and I will delight in my weaknesses and difficulties for when I am weak, then I am strong.
Now this is fighting! I'm fighting in the strength of God's word, with His word is my weapon. Every now and again I may get beat down, usually because I haven't been training enough, and then the best I can do is pull out the below-the-belt punch: "I'm gonna tell my Daddy, and He's gonna crush your head!" OK, so it's a little immature, but it's still truth as I read it in the word!!
So let me ask the question again. When was the last time you got into a fight? I hope it was today! See you on the playground!
"For the Lord your God is the one who goes with you to fight for you against your enemies to give you victory." Deuteronomy 20:4