Devotional
Blinds for the Un-seeing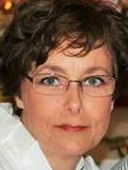 ~~So, hey! It's been a while! Glad to be back and to have something to say!
While I've been on this brief hiatus I've been busy learning and listening and contemplating, and just trying to hear something besides my own voice for a while. It's been good, I think, though less than profound. Normal is part of the Christian life as well as mountaintops and valleys low. Doing life is sometimes where the best work is done.
I've been traveling a lot with my husband since his corporate offices and my son's university are both in Little Rock. We have our own room at the hotel there – the same room every time. It gives me a false security that the germs are all just ours. I choose to live in that reality. Anyway, because my husband is usually there with other coworkers from out of town, I've gotten an opportunity to meet most of them and chat them up about their parts of the world. One of my husband's co-workers is a great guy whom I enjoy very much, and who is not a believer. He's from California.
One evening while we were comparing notes about kids and schools and etc…he said that his kids attend a "progressive" private school and that it's kind of "inner-city", meaning that there is a homeless community right across the street. I was waiting for the anticipated follow up about how the school has embraced that opportunity to teach the kids to serve, and the recounting of activities they've embarked on to do that. Instead, what he told me is that the school has decided to put up blinds on the front of the building so the kids don't have to "look at that" all day. Doesn't help with drop off and pick up apparently, and the conversations that ensue coming and going are largely about how each person chooses their own lifestyle and it's not our place to try to change that.
It was a startlingly different approach from what I expected. I've mulled it over for months now.
Another thing I've been doing while on hiatus is church shopping…again. I've settled for now in the church that hosts my Bible study group. They are a warm and welcoming little church whose commitment to service is impressive for a group its size. They have found practical ways to serve the community every single month since they've been in existence and they don't limit themselves because of what they think a church of less than 100 can do. They just do what they can with what they have where they are. I really like that. They don't look for the glamorous; they just serve the needs they become aware of.
One of the women who leads there, and coincidentally is in my Bible study and has become a close friend, also subs at her kids' elementary school. Because our community population is 25% Hispanic and almost 10% Marshallese immigrants, there are unique challenges in the schools here. And lots of need. My friend, in her work at the school, stumbled across a community of transient homeless families with kids living in a local pay-by-the-week run down motel. Instead of putting up blinds so she couldn't see that…she brought that need to the church.
Today is the Sunday of Spring Break week. This is a week when kids with food insecurity will go hungry because they can't get two hot meals at school. It's a scary week for them, and a stressful week for their parents. So this little church chipped in and packed 60 bags of groceries today during church services. No…instead of church services. We all got to be The Church instead of doing church today. Anyone who would normally attend service got the opportunity to pitch in to pack bags and make deliveries. Outside the walls of our building. On a Sunday. Worshipping through obedience. Together. The Body, doing its work. It was a marvelous thing. A simple thing. An ordinary thing. A practical thing. Something that won't change the world, but was motivated by love and obedience and gratitude. Something truly profound. I would have been privileged to watch, but I was blessed to help.
Now I know all that sounds like a brag bag, but it's not. It's a call to open your blinds. It's simple really; this thing God wants us to do. We don't need a lot of people to do it. It doesn't have to be glamorous. It's really just about looking across the street and seeing the need that exists there. Need that you'll miss if you shutter your windows. And let there be no mistake, The Church is as guilty of that as anyone in the world, especially on a Sunday morning. (Can you even see out your church windows?)
OK. You get the point. Don't wait for someone else. Don't wait until you get bigger. Don't wait until you can solve the problem. Just do what you can with what you have where you are. That's Teddy Roosevelt, by the way. Maybe it would be better in closing, to quote Jesus:
"Then the King will say to those on his right, 'Come, you who are blessed by my Father; take your inheritance, the kingdom prepared for you since the creation of the world. For I was hungry and you gave me something to eat, I was thirsty and you gave me something to drink, I was a stranger and you invited me in, I needed clothes and you clothed me, I was sick and you looked after me, I was in prison and you came to visit me.'
"Then the righteous will answer him, 'Lord, when did we see you hungry and feed you, or thirsty and give you something to drink? When did we see you a stranger and invite you in, or needing clothes and clothe you? When did we see you sick or in prison and go to visit you?'
"The King will reply, 'Truly I tell you, whatever you did for one of the least of these brothers and sisters of mine, you did for me.'" Matthew 25:34-40